James Courtney – Attorney
Jim is a native of Charleston, raised on James Island.  He is married, with three children.  After graduating high school, he briefly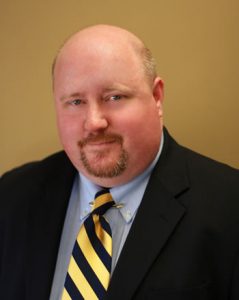 attended the College of Charleston.  In 1991 he moved with his wife to Missouri.  There he became a police officer, his childhood dream.  He enjoyed helping people and rose through the ranks to the level of sergeant.  As a sergeant, he trained new officers and supervised shifts. His duties also included the discipline of officers, scheduling officers, firearms instructor, field sobriety training officer, and other duties such as maintaining the breath testing equipment.  Of course, he had the normal police duties such as writing tickets, domestic violence complaints, and DUI detection and apprehension.
After ten years as an officer, Jim graduated from Central Methodist College in Missouri after making the Dean's list for 8 straight semesters, all while still working full time as an officer.  Upon graduation, Jim left the police department and moved his family to Kansas City, Missouri, where he attended the University of Missouri School of Law in Kansas City.  He was placed on the Dean's list there for his entire third year of law school and was offered a job as a public defender in Missouri.  However, since his entire family was in the Charleston area, he and his wife moved back after graduation so his children would grow up near their extended family.
In 2008 he joined the 9th circuit solicitor's office as an assistant solicitor, focusing on felony cases and domestic violence cases.  During that time, he tried almost forty cases of domestic violence and several felony cases, including attempted murder cases.  After two years, he left the solicitor's office to open his own law practice in the Charleston area.
In 2015 he closed his solo practice and joined the South Carolina Highway Patrol as their DUI prosecutor for the Berkeley County area on a state grant.  For three years he exclusively prosecuted DUI cases for the highway patrol and taught the troopers classes on how to conduct a DUI investigation with a focus on how to win in court.   After three years the grant ran out and in 2018, he joined a local criminal defense firm that focuses on traffic and DUI defense cases.
Jim has joined the McGrath Law Firm to once again help clients who find themselves mired in the criminal justice system.  His focus is on criminal law, especially drug cases and DUI cases.  With his background and experience, his insight into the law and criminal justice system is a valuable tool that clients can benefit from when so much is at stake.